Grid Side Beacon Light Set
Day or night, be seen in intersections with the the eye-catching glow of the Grid Side Beacon.
Day or night, be seen in intersections with the the eye-catching glow of the Grid Side Beacon.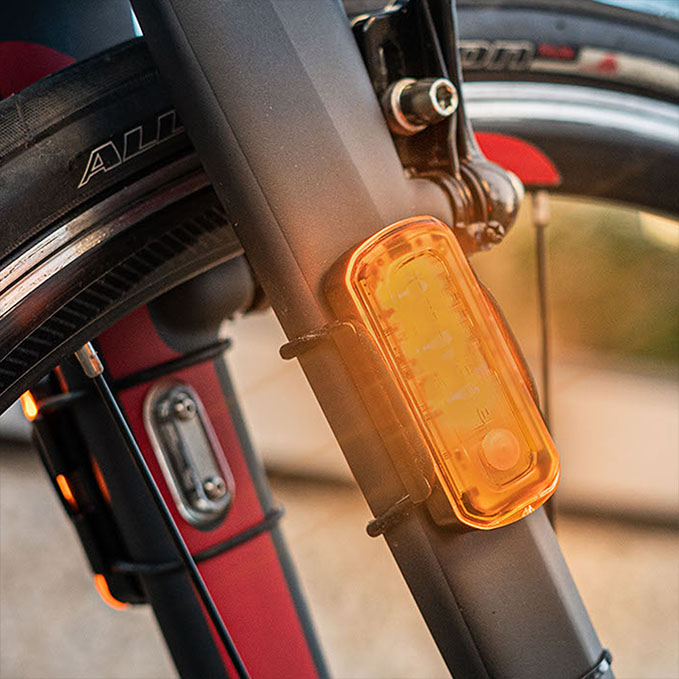 Details
Being seen from all angles has never been easier.
We understand being able to see in the dark is important, but we also believe that so is being visible to cars. A recent study by the National Highway Traffic Safety Administration (NHTSA) showed 27% of bicycle accidents are side impacts and 30% of fatalities occur in intersections (between 2010-2017). Being seen from all angles while cycling has never been easier. The Grid Side Beacon was imagined to work with head/tail lights to keep you more visible from a full 360 degrees. Designed to be mounted to either side of your fork with reusable silicone straps, the Grid Side Beacon can be used as a stand-alone light, or as part of our Luminate 360 Light Set. Spec'd with eye-catching amber-colored LEDs, the weather-proof, rechargeable Grid Side Beacon set comes with a dual-headed charger and has a runtime of up to 6 hours for multiple days of commuting illumination.
Specs
Recharge Type
Micro-USB rechargeable - Charges via any standard USB port

Brightness
Up to 85 lumens

Battery Type
Lithium Polymer

Recharge Time
2-hour recharge

Mounting Options
Fork or frame mounting

Product Weight
58 grams (each side 26g)

Run Time
High solid mode: 1.5 hours at 85 lumens

Low solid mode: 3 hours at 50 lumens

High flash mode: 3 hours at 85 lumens

Low strobe mode: 6 hours at 50 lumens

Water Resistance
IP-65 Ingress protection rating or "IP Rating," is a techy way to describe the level of water- and dust-proofness of a product. This light meets the IP-65 Standard, which means it is totally protected against dust/grit and protected against low-pressure water jets coming from any direction.

Manual(s)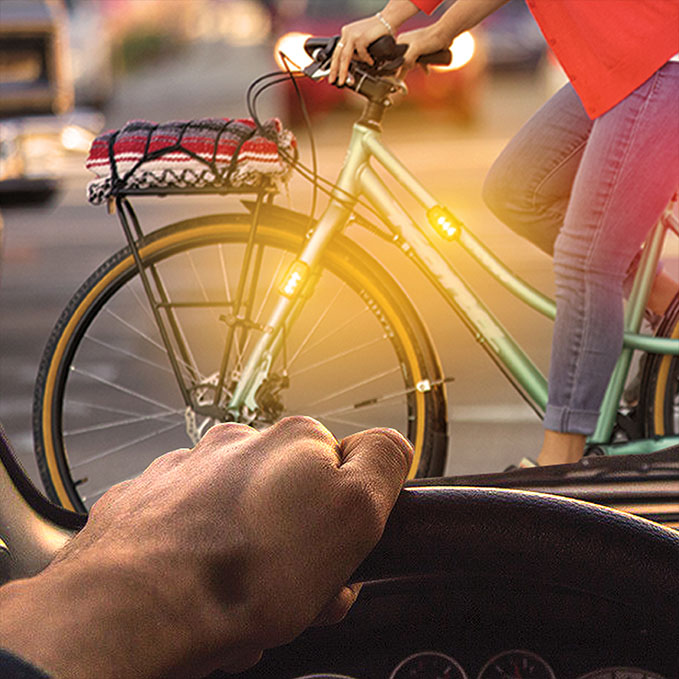 Features
360-degree visibility
If you could be seen from every angle, why wouldn't you want to? We designed our side visibility lights to work in concert with our front and rear lights to keep you seen, day or night, from any angle, for 360-degree visibility.
Amber LEDs
Because it sits right in the center of the visible light spectrum, amber is the first color the eye can pick up. It is universally accepted that yellow/amber lights mean caution, or slow down, making them ideal for side visibility light.
One for each side
Our Grid Side Beacon and Luminate 360 sets come with two lights, one for each side of your bike. They include two different sized rubber bands to accommodate varying thicknesses/tapers of fork blades, downtubes or top tubes.
Meets ANSI FL-1 standard
This standard was created by the American National Standards Institute (ANSI) to provide consistent performance measurements for handheld lights.
Group ride mode
Dayblazer tail lights have a group-ride feature that allows them to be run at 3 lumens so that you can be seen without blinding your riding partners.
Limited lifetime warranty