Growing up, Erick Cedeño was an active and curious kid, playing basketball, running 5K's, swimming, hiking, and riding his bicycle at any opportunity. Influenced by his mother, who always worked to ensure he was exposed to different countries and cultures, his itch to travel has played a pivotal role in his life and has taken him on many adventures throughout the years.
Even though he's known as the "Bicycle Nomad" and the word nomad implies, by definition, no permanent home, one could say that Erick's home base is Santa Monica and he's most at home when spending time with his wife and son and then, of course, when he's on his bike, on the road.
Erick has taken many trips and explored the world by bike for years now. While living in Philadelphia after college, he realized that with his salary, it was difficult to save money while also driving a car constantly requiring maintenance and money to keep it moving. He said to himself, "I live and work downtown, so it will be cheaper to commute within the city by bicycle and will allow me to save more money." After adopting the car-free lifestyle, he decided to see the whole country by bike. From that point on, he was all-in.
It took many years of work and miles of riding for Erick to become a sponsored cyclist. While living in Phoenix, Arizona, he owned and operated the Bicycle Nomad Cafe, balancing time between keeping the shop running, often working 7 days a week, and spending time with loved ones.
Erick has faced plenty of challenges in his journeys. Life by bicycle hasn't always been carefree and easy, and life on the road isn't just tuning out and turning the pedals. As a person of color, Erick says that traveling solo in the U.S. presents its own difficulties. He's constantly scanning his surroundings to ensure that he's safe. Unsurprisingly, all of that takes a toll mentally, he says.
My curiosity to see more and experience the landscape at a slower pace
— Erick Cedeño
So what keeps him going? "My curiosity to see more and experience the landscape at a slower pace," Erick says. "I love waking up in different places every morning and meeting different people along the way. When I was a child, my favorite books were about history and previous explorers. Those books became my motivation to see the world as an adventurer and an explorer."
Erick is inspired by learning more about himself and knowing that after each adventure, he comes back a better person for taking some time for himself.
I become more present in my daily life because I am able to quiet my mind.
— Erick Cedeño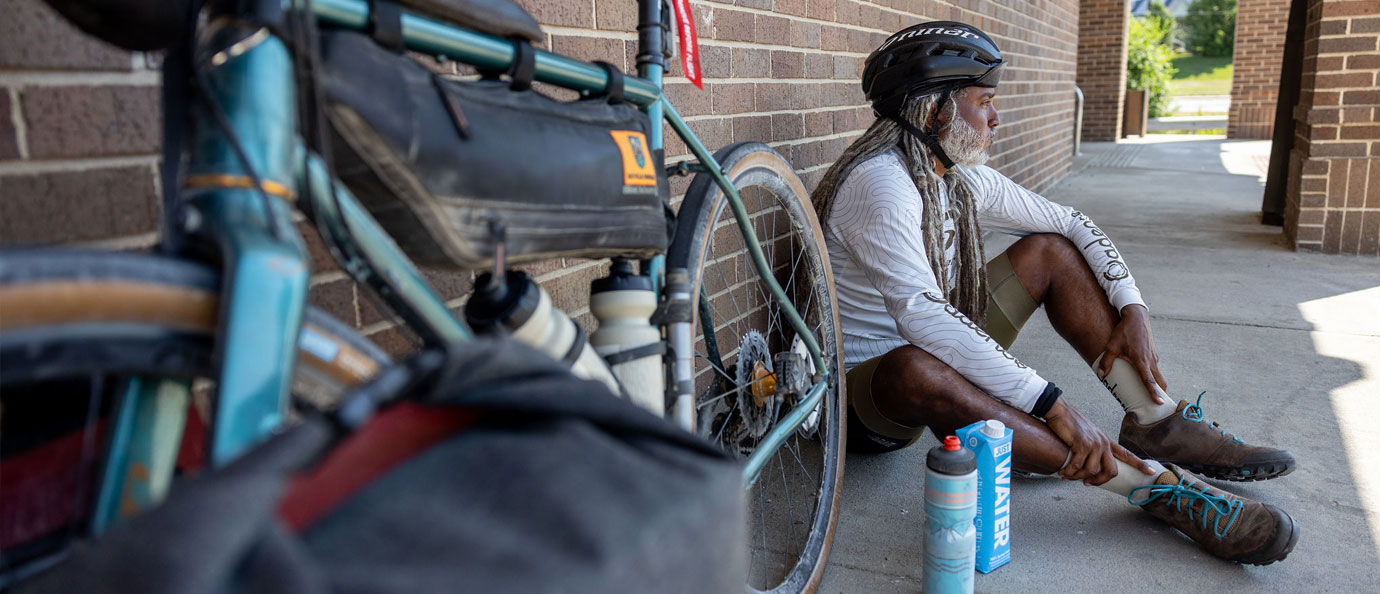 With all of his exploring, there have been many remarkable milestones, however Erick considers his greatest achievement as a cyclist, and historian, retracing the original route of the 1897 expedition of The Bicycle Corps - Buffalo Soldiers. In addition to riding the entire route, he was able to share his research about this incredibly important piece of history. This also is his favorite trip that he's taken as he's been fascinated by the story for years.
For me, it's healing and therapy. I become a better husband, a better father, and a better human being because of my experiences in the outdoors, and that is my inspiration.
— Erick Cedeño
Looking ahead, Erick plans to continue doing more research about the Bicycle Corps and diving deeper into the history there. He's working to recognize the faces of those on that expedition and match them with names. To do that, he's heading to Washington D.C. to the National Archives Library. Additionally, later in 2023, and 2024, he will be retracing the first and second expeditions of the Bicycle Corps. from Missolula, MT to McDonald Lake, MT and Missoula, MT to Yellowstone National Park. Whenever he ends up with some spare time, he would love to ride his bicycle from Los Angeles, CA to Panama City, Panama and travel across Africa by bicycle.